Powder Flow Testing with the FT4 Powder Rheometer
The FT4 Powder Rheometer® – a universal powder flow tester for measuring powder flow properties and powder behaviour.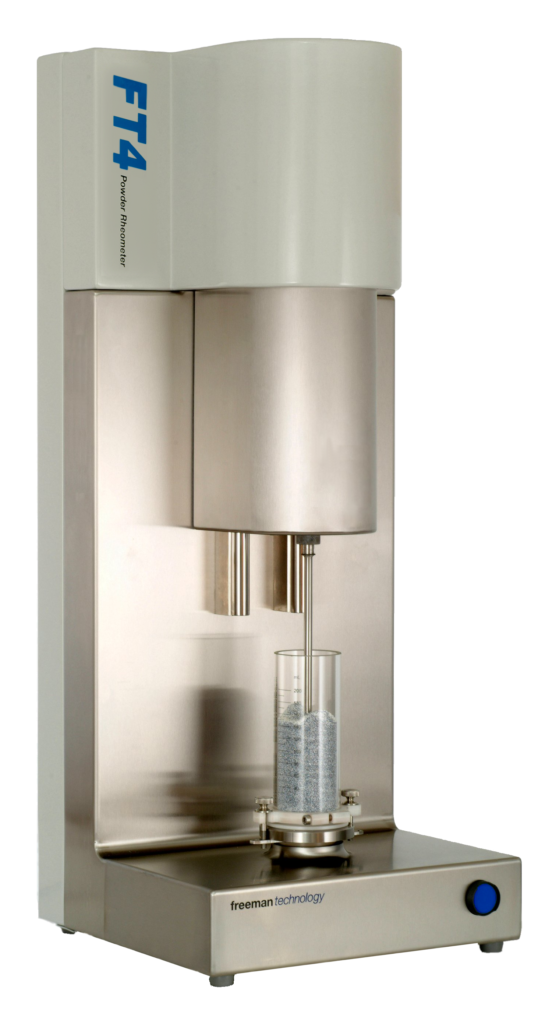 The FT4 was designed with one purpose in mind – to characterise the rheology of powders, or powder flow properties. This remains a primary function today, but the instrument, accessories and methodologies have been continuously developed to the point where the FT4 is now considered a universal powder flow tester. It differs from other powder testers in many ways but when assessing industrial value, three features are critical:
The ability to simulate powder processing conditions, by testing samples in consolidated, moderately stressed, aerated or fluidised state.
The application of multi-faceted powder characterisation to assess dynamic flow, bulk and shear properties to construct the most comprehensive understanding of how a powder behaves.
Unparalleled sensitivity, enabling the differentiation of powders that other testers classify as identical.
Features
Fully automated test programs and data analysis
Conditioning mode provides unparalleled repeatability
Range of sample size, 10ml to 160ml (in addition a 1ml Shear Cell can be selected for limited sample size)
How it works
The FT4 employs unique technology for measuring the resistance of the powder to flow, whilst the powder is in motion. A precision 'blade' is rotated and moved downwards through the powder to establish a precise flow pattern. This causes many thousands of particles to interact, or flow relative to one another, and the resistance experienced by the blade represents the difficulty of this relative particle movement, or the bulk flow properties.
Excellent reproducibility is achieved by moving the blade in a precise and reliable way. The advanced control systems of the FT4 accurately set the rotational and vertical speeds of the blade, which defines the Helix Angle and Tip Speed.
FT4 Methodologies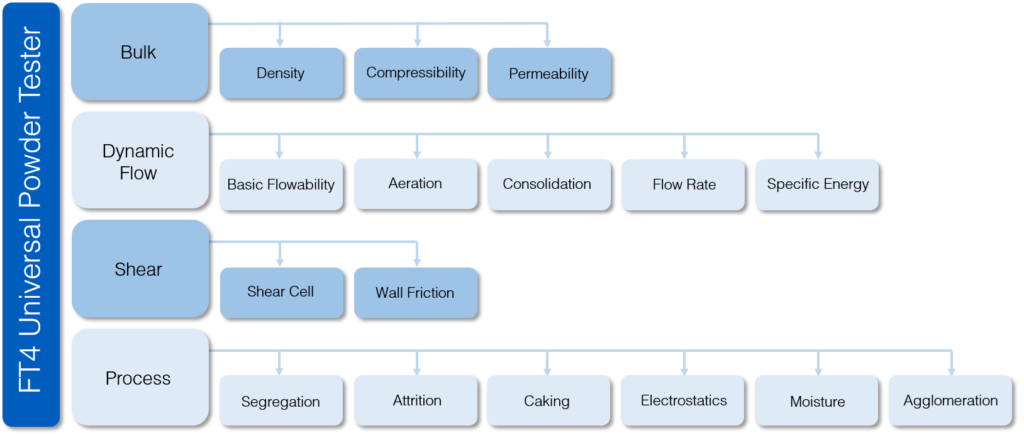 Proven Applications
The FT4 has application in all powder processing industries, including Pharmaceuticals, Fine Chemicals, Food, Cosmetics, Toners, Metals, Ceramics, Plastics, Powder Coatings, Cements and Additive Manufacturing. Applications extend to:
Die / Capsule Filling
Tablet Compression
Hopper Flow
Wet Granulation End Point & Scale Up
Flow Additive Selection & Optimisation
Humidity Effects
Electrostatic Charge
Mixing / Blending
Feeding
Segregation
Attrition
Dry Powder Inhalers
Caking
Milling
Conveying
Wall Friction & Adhesion
Hopper Design
Compact Hardness & Payoff
Vacuum Filling
Agglomeration
Whether your objective is to optimise a formulation in a development environment, predict in-process performance, understand batch differences, or to ensure the quality of raw materials or intermediates, the FT4 will provide valuable and unique information that will help you address your powder flow challenges.
For additional information, please contact us, or visit the Freeman Technology website.