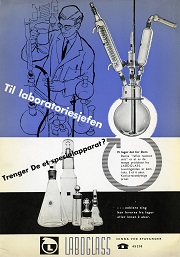 The company was founded in 1958, under the name Laboglass. Initially as glass blowing business, specialising in custom glassware for the canning industry in Stavanger.
With the growth in the oil and gas industry on the west coast, the company was restructured in 1976 to better serve the new market. Laboglass then started offering general laboratory equipment and specialty instruments for drilling fluids, well cement and core samples.
In 2001, the company was re-established under the name Phoenix Trading AS, still with the main customer base in the oil service industry, but also serving customers within education, food manufacturing and municipal water and sewage plants.
Today, Phoenix Trading AS is a one-stop-shop for laboratories, offering chemicals, consumables and analytical instruments. Our office is located in Stavanger Norway, were we have an instrument repair workshop and warehouse with over 1500 product lines in stock. Our service department repairs and preforms service on the instruments we offer, both in-house and customer sites. We also have facilities for the manufacture of demineralised water and specialty chemicals.
Among the products we offer are instruments for materials characterisation from Micromeritics, who offers solutions for measuring density, surface area/porosity, particle size/shape and characterisation of catalysts.
In terms of water quality and environment, we're distributors for Modern Water, who offers leading products for the determination of toxicity, environmental toxins and trace/heavy metals. The solutions offered ranges from laboratory instruments, field analysis and continuous monitoring. Teledyne Tekmar manufactures instruments for the measurement of Total Organic Carbon (TOC), and offers solutions for the entire spectrum of water quality, ranging from wastewater to drinking water and water for pharmaceutical manufacturing.
We also offer laboratory balances and optical products such as microscopes and refractometers from the German manufacturer Kern.
Within specialty instruments for testing of drilling fluids, well cement and core samples, Phoenix Trading is the Scandinavian distributors for OFI Testing Equipment's products.
We're also the Norwegian distributor for Honeywell Research Chemicals, who offers a large selection of chemicals for laboratory use.