Webinar: Techniques Applicable to The Study of Porous Materials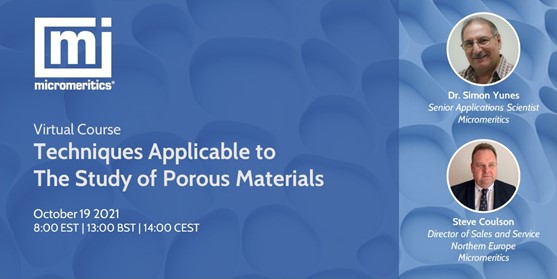 Porous materials are an established but ever evolving field of study. They are widely researched in academia and have numerous and varied use in industrial processes.
Join us in this presentation by Dr. Simón Yunes to learn how Micromeritics instruments can be used in the textural characterisation of these materials and how they can assist in product and process improvement.
Dr. Simón Yunes
Applications Scientist – Micromeritics
Dr. Yunes joined Micromeritics in May 1984, where he held the position of the Application Scientist, conducting experiments on adsorption, assisting the development of new products and writing application notes. Dr. Yunes is recognized worldwide for his contribution to the field of adsorption and the application of adsorption techniques to the characterization of solids, particularly catalysts.
Mr. Steve Coulson
Director of Sales and Service, Northern Europe – Micromeritics
Steve Coulson has been with Micromeritics for over twenty years and manages our direct offices and distributors in Northern Europe. Steve has a B.Sc. (Hons) in Applied Chemistry and a Master's Degree in Polymer Chemistry. Prior to joining Micromeritics, Steve was a Micromeritics customer during his time in industry working for ICI.